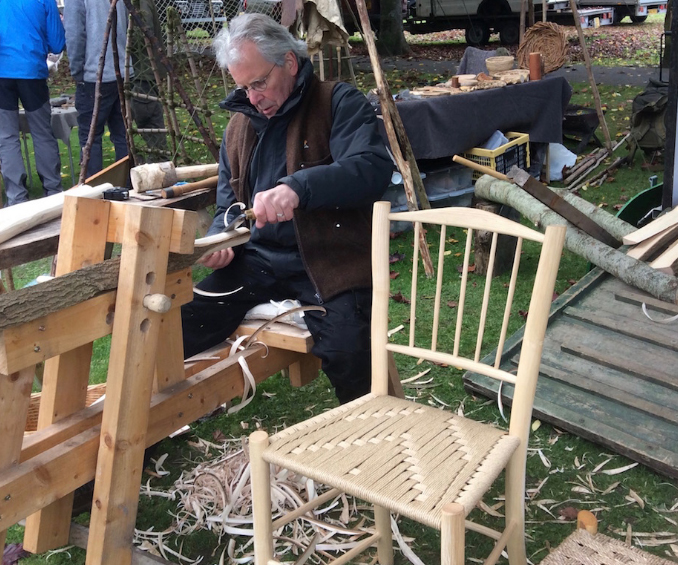 Greenwood Chairmaking with Peter Young
Monday, 1st May, 2017 09:00
Friday, 5th May, 2017 18:00
Return
---
A 5-day course: from tree to chair
On this course:
You will learn all you need to make your own spindle-back chair from a newly cut log, and, at the end of the course, take it home with you.
What is greenwood chairmaking?
Making chairs from green, unseasoned timber allows us to make use of the natural qualities of the wood and build them into the finished product. Working with nature, rather than against it, we ensure that the chair retains all the strength, flexibility and grace of its parent tree. Where machine tools cut into the grain and weaken it, we work with the grain, using traditional tools, to shape each of the component parts. This way, no matter how fine and slender the parts, they remain strong and resilient.
Our techniques are cleaving and shaving, with the froe, hand-axe, drawknife and shave-horse. Some of the components are steam bent. Once all the parts are ready the joints are squeezed together without glue, screws or nails. Then the seat is woven with sea-grass or cord. The finished article is a thing of beauty, a country style chair with Shaker notes, which may have a life of 150 years or more!
Peter Young, the course instructor and former principal of the Chisholme Institute, learned chairmaking from Mike Abbott in Herefordshire. Mike has done more than anyone else in the UK to rescue green woodworking from oblivion.
Peter runs chairmaking courses throughout the summer near Edinburgh.
See greenashchairs.com.
Who is it for?
If you are looking for a break from the usual, a working retreat in woodland and to learn something new, this course might be for you. By following a few commonsense rules, anyone can work with greenwood tools safely and proficiently.
If you like working with your hands you can discover for yourself the joy of making something useful and beautiful from green wood. No previously learned skills are required. However some may find the course physically taxing. The working day is long, from 9.00 am till 6.00 pm each day.
Where will it be held?
The course takes place under canvas in Chisholme's woodlands. All tools and materials will be provided, also meals, tea, coffee etc.
Why at Chisholme?
Chisholme House and estate is a superbly supportive, contemplative setting for any number of avenues of self-enquiry and learning. This course, set in woodland and engaging the whole of ourselves, offers the opportunity to work with nature and to practice 'working without doing'. As Lao Tsu says, 'the sage goes about doing nothing but everything gets done'. Participants are invited to enter as deeply into this dimension as they wish, including morning and evening meditations and group conversation.
'I follow the natural grain, letting the knife find its way through the many hidden openings, taking advantage of what is there…' Chuang Tsu
Course fee
£375: the fee for the course itself includes all materials, lunch, coffee and tea but not accommodation.
Concessions (students, unwaged and disability) £300
Accommodation
Five nights accommodation (from supper Sunday 30 April to breakfast 5 May): shared £125; single (when available) £160.
Non-residential Bring your own packed lunch and thermos, or add £50 to the course fees, for tea, coffee and lunch for five days.
Meals
The Chisholme kitchen provides food in keeping with the spiritual and material aims of its education. Chisholme is not vegetarian but meat is prepared with the deepest respect for its benefit and origin. Meanwhile vegetarian dishes comprise the majority of the food served and are always available as an option. Special diets can be catered for where there is a medical reason. Please let us know your needs when you book your stay.
Deposit
A non-refundable deposit of £100 should be paid when booking to secure a place on the course and to reserve accommodation (if needed).
Booking
Book online at the top of the page or email info@chisholme.org
Tel +44 (0)1450 880215
For practical information about staying at Chisholme, click here..
Please do not hesitate to contact us if you have any questions.